Before I even hit play, let me tell you where I'm coming from: I'm a man with pie, coffee, and coffee ice cream. I've seen the original run of Twin Peaks six times in full (yes, I even watch James Hurley's god-awful subplot of death every damned time). Fire Walk With Me was misunderstood on release, and it's among David Lynch's best work. Personal favorite David Lynch film is Lost Highway, which just edges out Mulholland Dr., Eraserhead, The Elephant Man, and, yeah, Fire Walk With Me. (But for me, it's an easy call.)
Federal Bureau of Investigation Agent Dale Cooper is likely my favorite character ever in anything, and the end of the original series was something I thought I was just going to have to live with for the rest of my life. It was a gut punch, I thought it was the end, and it really hurt me.
Until now?
I am beyond excited. I'm already a few minutes behind. Enough is enough.
Don't know if this will be interesting to anyone, but … what the hell. It's Twin Peaks. I'm doing it. Probably all wrong. Obviously … spoilers to follow.
Let's rock.
<> <> <> <> <>
I don't need ANY PROMOS RIGHT NOW FOR ANYTHING ELSE SHOWTIME … grrrr… FFWD…..
And we're direct to the Black Lodge. I know this scene. Hello, old friends.
"I'll see you again in twenty-five years. Meanwhile…" Laura Palmer's "Vogue" moment. This show is already stirring the nostal….
OH SWEET JESUS OPENING CREDITS … SAME THEME, SAME PLACE, DIFFERENT SHOTS. I AM HOME!!!!!!!!!
They really surprised me with the timing of the opening credits for some reason. They snuck up on me in such a nice way, it was like a loved one giving me a hug from behind when I didn't even know they were home. I kinda want to cry, it's so beautiful.
Watching that again.
A couple thoughts. Just about the credits. Yeah yeah, I know. Me too. But … I have to. (Jesus, I have no idea how long this post is going to be. This could take me all night if I keep this up.)
After the redux of Coop and Laura in the Black Lodge, there are three new, spooky shots of Twin Peaks environments. What a goddamn (beautifully spooky) tease! The three new shots are all locations. No people yet. Then Lynch pulls back out, reverts to old stuff. Inside, I cry. It's a couple shots from the pilot, and I KNOW THIS I'VE SEEN IT SIX GODDAMN TIMES. Give me the new stuff! But then he focuses on Laura's face, again an old shot (oft-repeated, I'm wondering if this recycling is going to go on forever), and then … he drops the opening credits, with new footage of old locations set to that theme we know and love. Just like that, I fucking melt.
Mellllllllllt. I'm a puddle now.
I can't help but think that is some seriously intentional shit. He knows what we want. He played with us a bit there. It's such sexual editing, it's kinda ridiculous.
[clears throat.]
Okay, but here's the thing that really just blew my mind. Shot of the waterfall is now from above instead of below, and instead of floating downstream, we dissolve into chevron carpet and billowing red curtains. Black Lodge stuff. Where Agent Cooper is trapped. The place where I most want to see what happens next.
And that's when my mind exploded. Because Lynch blends the carpet with the curtains, and I finally get it (I think): it's all fire!
Key line from this story to date is: "Fire walk with me."
It was there all along. It was written in the damn rug. The curtains billow over the chevron, and it LOOKS LIKE GODDAMN FIRE.
And when you walk on a carpet with that pattern, does the fire walk with you?
But wait, because I got more. The carpet is also… twin peaks. One set black, the other white. Black Lodge, White Lodge. Twins. Doppelgängers.
I can't believe I didn't notice this before.
Ok, ok. Enough. Got another hour and fifty-five minutes to get through, I'd better up the pace a bit.
Giant says: "Agent Cooper, listen to the sounds." What in the unholy fuck is that sound? It's a loop of some kind. "It is in our house now," says the Giant. What the fuck is their house?
"Remember 430." Ok, Giant. Got it. "Richard and Linda. Two birds with one stone. … You are far away." I remember getting clues from the Giant before. They all came true. Better take note of this for later.
Might be men in smiling bags.
HAHA … That was such a silly joke with Dr. Jacobi wearing sunglasses over his multi-colored sunglasses. No idea why Jacobi is getting a shovel shipment.
And now we're in New York City, I guess? (That was one glittering aerial shot, holy shit that looked good.) Here we have some magnificent shots of a man staring at a giant box with a hole cut in it open to the rest of the city? Haha, Banzai tree beside him is a clever little nod. Check for bugs, buddy. Or just shout "BANZAI!!!" really loudly. Either will work for me.
This dude appears to have been watching and saving footage of this empty box for quite some time. Composition looks a bit like an old MTV cartoon where he gets his mind blown by some rock 'n' roll.
Awww, Tracy seems nice. She's brought coffee! "Z." is on the cups. She can't come in. She says words like, "Shoot!" and "Oooh!" He says words like, "Top secret!" and "Thanks, Tracy." Heavy flirting ensues. I'm curious.
Cut to … Ben Horne!! And is that Ashley Judd? And Jerry! Who looks … like a hippie now? Jerry is terrific as always. He's selling pot-infused baked goods. And doing better than Ben, seems like. That was perfect.
Cut to … Lucy!! Someone needs to see Truman, but apparently there are two now? Of course there are. Twin Peaks, after all.
Cut to … oh noooooooooo. Evil Agent Cooper. I feel worse. He's got B.O.B. hair now, I guess. Long and gross as fuck. He's messing with some weird people in the woods to collect Ray and Darya. Ray and Darya slip notes to a man in a wheelchair. Evil Agent Cooper referred to as "Mr. C." So that's what I'll call him, too, I guess.
I don't like Mr. C. It hurts a lot to think he's been out there doing bad things for 25+ years while wearing Agent Cooper's face. Ugh. And with no sense of style, either. Spray tan and garbage hair and bad clothes. I hate him. Someone stop him, please.
Back to Tracy and the Box-Watching-Man. The guard has vanished, but she's brought more coffee! I have a really bad feeling about this.
Box-Watching-Man lets Tracy in because, hey, no guard to stop him? Was it really the guard that stopped him before? Odd.
Tracy … I think you should not be going in here. With your "Z." coffee.
Oh good. He got this job from an "anonymous billionaire." He's supposed to watch the box in case something appears inside. This is quickly turning into Fifty Shades of NOPE!.
Uh-oh. David Lynch is on Showtime now, in case you were wondering. They're doing it. Machinery disapproves.
Also, appears Tracy works for the "Z."-brand coffee shop. There was a "Z." on her dress. That is now off her body. Machinery REALLY unhappy.
OH GOD.
OH GOD.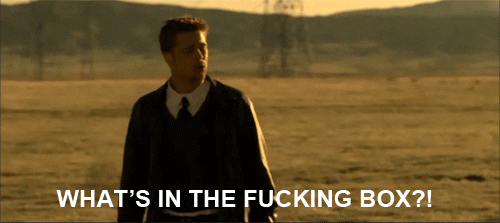 OH MY FUCKING GOD.
…….. I ……. ummmmm……..
That was horrifying. Something appeared in the box. Bad things happened to the Box-Watcher and Tracy. Apparently, they met the ghostly equivalent of an angry food-processor. Holy fucking shit.
Punished Old Skool Horror Film-style for daring to have sex in a creepy setting, eh?
The male gaze is strong in this show.
Pausing here to ask: Where's Audrey? Can I see Audrey next please? What about Shelley? I would like to see Audrey or Shelley or maybe both Audrey and Shelley now. Ok?
Mostly I need to know if Audrey survived that bank explosion. I really want to know that. Please tell me right now that she lived? Whaddaya say?
Survey says … nope. But hey, lookit — Buckhorn, South Dakota? Seriously?
Woman with groceries and her dog Armstrong smells a bad smell at neighbor friend Ruth's door. Yeah… She's dead. And what is this, Fargo now?
TELL ME ABOUT AUDREY! Grumble, grumble.
Spending a long time getting keys to Ruth-Who's-Dead's apartment. Maintenance Man Hank (not old show Hank, though I had a moment) seems suspicious carrying a giant bag of garbage(?) and a … doctor's bag? I got my eye on you, Maintenance Man Hank. Why did they introduce you at all right now?
Oh Jesus. Ruth is SO dead.
Harvey and Hank are up to no good. Some deal or something. Hank is trying to cut Brother Harvey out. Seems like Renault brothers all over again to me, though. Shady, but red herrings all the way.
WHAT THE FUCK!!! Ruth's corpse … severed head. Naked pregnant body. Uggggggggh. Wow, Bob, wow.
Someone please make them cut to Audrey next PLEASE!
Nope! Log Lady!! She's calling Hawk. "Something has been lost. … The way you will find it has something to do with your heritage. This has been a message from the log."
Hawk looks great. And his "Goodnight, Margaret" line was so sweet.
Wasn't Audrey, but it was nice. I'll take it.
Back to the plot about Ruth-Who-is-Dead-Not-Wrapped-in-Plastic — ok, great, so the pregnant portion of the dead body wasn't Ruth. That's terrific. And they found prints all around the crime scene, and the guilty man appears to be… Matthew Lilliard? Who is the school principal! His mom and dad are gonna be so mad at him!
Andy, Lucy, and Hawk on the case in Twin Peaks. Nice seeing them together. I was a little distracted by Andy's fascinating stomach. He really leads with it. And it is quite round.
Principal Bill is getting grilled by cops. Not about Audrey. Turns out, there's a gap in his alibi. He seems disturbed by his sudden awareness that there's a mysterious gap in his story. Claims he gave someone a ride home because, "There was something wrong with her car … Something wrong …" RUH-ROH. This practically SCREAMS of B.O.B., but I thought B.O.B. was in Mr. C.
For the record, I don't know if I'm spelling B.O.B. right. Bob? BOB? B.O.B.? No idea.
Mrs. Principal Bill, Phyllis, seems put out having to surrender keys to the car and let the detectives search the joint. Suspicious lack of concern.
For a moment, I thought that was a human ear under the cooler in Bill's car's trunk. But actually, I have no idea what it was. Some kind of fleshy bit. Bodes ill.
Getting pretty soap operatic in the prison cell as Mrs. Bill confronts Principal Bill. Bill had a bad dream that puts him at the scene of the crime. Husband and wife appear to have been cheating on each other. Phyllis with this fella George, who is a man in a suit of some prosecutorial bearing. Hm.
Pan over in the prison cell from Bill to … ok. OK. It's a wide-eyed inmate who vanishes into thin fucking air. H'OK THEN.
Ohhhhhhh shit. Phyllis gets home to find herself face to face with Mr. C. Who shoots her dead on sight. With George's gun.
Maybe Bill is innocent after all.
Where's Audrey???
Cut to … Even MORE new characters! A certain Mr. Todd and "Roger." Doing things for someone. Roger wants to know why Mr. Todd lets XXXXX make him do things. That's all for now!
Oy vey. Whole lotta plot threads getting thrown down here.
Now we're in a diner with Ray, Darya, Mr. C., and "Jack," who eats spaghetti. "One thing you should know about me, Ray, is that I don't NEED anything. I WANT. And I want that information." Jack wants spaghetti, though. Jack's getting more spaghetti than Mr. C. is getting information.
Ray, pal … I don't think you're long for this world.
"She's Hastings' secretary. She knows what he knows," Ray says. Who the fuck is Hastings? TBD? Or did I miss it?
Margaret on the phone again with Hawk, who's walking in the woods. "The stars turn, and a time presents itself. Hawk, watch carefully." Log Lady has lost a lot of her attitude over the years. She seems much more concerned. Or maybe we never got to see this side of her before? Can't recall if I ever saw her talking to Hawk directly before.
Oh, well, hello there. The old pond entrance to the Black Lodge. Why on earth are you here, Hawk?
Back inside the Black Lodge, it's nice to see real Agent Cooper again. One-Armed Man wants to know: "Is this future, or it is past? Someone is here." Then he vanishes. Remind me to always say "someone is here" before I vanish, too.
HEEEEEEEY, it's older Laura Palmer!! Well, if she isn't a sight for sore eyes! She tells Agent Cooper he can go out now. Early parole?
I always love scenes between Cooper and Laura. They love each other in a nice way. "Are you Laura Palmer?" Coop asks. Laura, of course, answers, "I feel like I know her, but sometimes my arms bend back." When pressed, "I am Laura Palmer. … I am dead, yet I live." And then she pulls off her face and reveals bright white light.
White Lodge, perhaps? I'm thinking White Lodge here. Could be wrong. Love opens the door to the White Lodge. Fear opens the door to the Black Lodge. Laura always felt like a source of love in this show.
Laura kisses Cooper and whispers, "Whisper." Then tells him something else I can't make out that causes Coop to say, "Huh." And then she gets sucked up into the ceiling screaming. I am filled with dread.
Curtains billow. The white horse is revealed. Same white horse that showed up in the Palmer's house in a vision Laura's mom had before Leland killed Maddy. Hm.
One-Armed Man is back. Asks the question again: "Is this future, or is it past?" Dunno, buddy. You tell me.
One-Armed Man and Cooper go to another room. O-AM points: "Evolution of the arm." It's a sycamore tree with a weird head stuck on it. Looks like something David Lynch made himself. "I am the arm, and I sound like this." Makes a weird noise, vaguely resembling sound from the beginning of the episode that the Giant told Coop to pay attention to. Unclear if it's a match for sure, though.
Either way, one thing is clear: "the arm" used to refer to the dancing dwarf in the Black Lodge, otherwise known as the Man From Another Place. Unfortunately, the actor who played the dwarf, Michael J. Anderson, died in real life. And has now been replaced. By a talking sycamore tree.
Now you know how David Lynch REALLY thinks of dwarfs?
"Do you remember your doppelgänger?" the arm/sycamore tree wants to know. Damn, this is getting a bit easy to follow, actually. "He must come back in before you can go out." Old Braintree also doesn't speak in the common tongue of the Black Lodge. Lines aren't spoken backwards and played backwards like others. Speaks normally, kind of, as does Cooper.
Cut to … Mr. C. Who massages Jack's jaw. For some reason? That's all for now as far as that goes!
Mr. C. shows up to a hotel room where Darya is making a suspicious phone call to … Jack, she says … while sitting around in her lingerie.
The male gaze is strong in this show.
Mr. C. wants to know where Ray was earlier. Ray missed his appointment. Darya flirting desperately with Mr. C. She's scared. Nobody is convinced. Mr. C.: "Jack is dead. I killed him two hours ago after he wired the car."
Mr. C. wants to play Darya a message. It's Ray. He's in jail? Ray has spoken to Jeffries!! That'd be Agent Jeffries of Fire Walk With Me fame, who was played by a time-traveling David Bowie. Apparently, according to Ray, Jeffries wants them to kill Cooper, and the heavy lifting is left to Darya.
Too bad Evil Coop was listening to this phone call. Which he recorded. Two seconds before walking in the door. Or not even two seconds. Timing must have been pretty tight on turning the recorder off and opening the door.
"Are you going to kill me?" Darya asks.
"Yes, Darya," says awful evil fucking guy with bad hair who wears the face of a saint.
Someone was going to pay Darya and Ray $500,000 to kill Evil Tanface. Darya is groveling her way through this. Evil Hairdo was supposed to go away tomorrow. Was supposed to return to Black Lodge (do it, dickwad!! GO!!), but he's not going to (BOOOOO!!!! I want real Coop back!).
Evil Hairdo is looking for coordinates from Hastings' secretary, apparently. Shows Darya an Ace of Spades with the symbol for Owl Cave doorknob thing on it. Darya pulls a blank. She's scared. "Are you going to kill me now?" "Yes, Darya." And he beats her unconscious, puts a pillow over her head, and blows her brains out. Leaves her with pillow over her head. Lynch makes sure we get a shot of a dead woman in her lingerie with a pillow over her head.
The male gaze is strong with this show. And I feel gross. It feels intentional now.
Evil Hairdo gets on the … satellite phone? … with Agent Phillip Jeffries. Sounded like Vile Cooper just said Jeffries was in "Nowhere."
Jeffries takes pains to say, "You're going back in tomorrow. And I will be with B.O.B. again." Vile Cooper suddenly not sure who he talked to. For the record, it did not sound like Bowie.
Looks like Mr. C. wants to go to Yankton prison to pull information out of Ray. Downloads blueprints of nearby prison where Ray's at to his magic suitcase of jackassery.
… And then goes next door to see … Jennifer Jason Leigh! Who's glad to hear Darya's dead! She was getting jealous. And she has a husband. He needs them to go somewhere for later plot developments.
Ugggggggh… Evil Hairdo to Jennifer Jason Leigh: "Ohhh. You're nice and wet." REALLY?!
I am sullied.
Back in the Black Lodge, the sycamore tree tells me how to spell Bob. It's Bob. Bob Bob Bob.
"Time and time again."
Please, Cooper, get out of here and kill your asshole evil twin already!!
Coop happens by Leland in the Black Lodge. Leland looks so pained. "Find Laura." Poor Leland. Still so tortured.
Coop wanders back to the One-Armed Man and the Arm-Brain-Tree: "Something's wrong," One-Armed Man says. "My doppelgänger," the tree responds. I do NOT want to see crazy tree's evil twin. Or do I? No, I do. I really do.
Coop opens curtains to see Evil Coop driving on a highway before Evil Tree opens up the damn chevron and drops him out of the Black Lodge with the one-word farewell of, "NONEXISTANT!"
Coop lands … on top of the box in NYC. Apparently right before Tracy and her Box-Watcher met their demise. They're about to walk in. Coop is in the box now, but the box is going all sorts of shaky. Coop is … minified, and sent flying back out of the box into … space???
Because apparently no one wants to tell me about Audrey or Shelley this episode, we check in with Mrs. Palmer while she smokes and drinks a Bloody Mary and watches an amazingly violent nature show on TV. That's all for now on that front!
Then we go to the Roadhouse!! And it's … not Julee Cruise, but it's another band that is playing similar music. Super mellow dreamy Roadhouse stuff, and … SHELLEY!!! WHERE HAVE YOU BEEN?!?!
And James!! I never liked James much. But for some reason… I'm kinda happy to see him now. Old Roadhouse feelings.
"James is still cool," Shelley says. "He's always been cool." HAHA. That's funny!
And… was that… Bobby? Kinda didn't look like him, but I think it was.
Credits??? Whaaaaaaaaaaaaat.
<> <> <> <> <>
Final thoughts: That was awesome. I want more, please. A whole lot of stuff just started. If Cooper doesn't get out of the Black Lodge soon, I'm going to start getting really antsy. Evil, tasteless Coop must be stopped.
But seriously: where the fuck is Audrey Horne???